Okay, so in addition to knitting and eating (sometimes locally) and of course working all the stinking time, it appears that the only other thing I do is shop. Last night at my favorite mall/ Californian hip spot/ fake "new" downtown style (as only in California... the last time I was in a similar place in Washington, it rained and I remembered why this wasn't nearly so hip there), after dinner, we did some light shopping. I admit that my primary motive was the free iTunes song at the gap
. Usually the gap's jeans look absolutely terrible on me (I'm a picky jeans girl and am apparently unusually short). I only tried on one pair of pants last night and they looked fabulous! If it had been another place (like Washington) or another season, I would have snatched them up immediately. As it was, it was too warm for jeans and I couldn't justify $40 for pants I couldn't wear for months (although still may buy... was $20 off regular price and according to mother not often that good of sale). The real steal of the evening was the Puma top (as pictured) from lucy , my favorite store that I never get to buy anything at. It was only $20 (regularly $60)! I also bought a little surprise for my mom's birthday (you'll see it soon mom).

I think I like shopping more than eating... not more than knitting though, don't worry!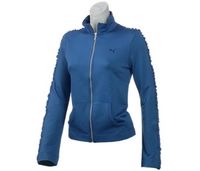 Oh- random Hubbie tattoo update: Apparently the picture isn't very clear about where the tattoo is located on his poor body. It is on his calf (not his butt, don't worry) and it looks very nice, as far as tattoos go.